What Evil Lurks
RELEASE DATE:

February 1991

TRACKLIST:

A1. What Evil Lurks (4.23)
A2. We Gonna Rock (4.34)

B1. Android (5.03)
B2. Everybody in the Place (3.27)

CATALOGUE:

XLT-17
TRIVIA BOX:
The first release by The Prodigy consists of 4 tracks from the 10 track demo
Liam gave to XL when applying for a record deal. About 7-8000 copies were sold and after that no more have been issued so nowadays WEL is a rarity. What Evil Lurks was only issued on 12" vinyl but the track 'Android' has made it onto CD via a 2 compilation. One put together by Belgian label R&S Records, homelabel to C.J. Bolland among others, called 'Order To Dance III'. The other one's called 'Techno Tunes vol. 2'. It's most likely from one of those compilations bootleggers have sourced the clean version of 'Android' that has appeared on a couple of bootlegs.
Original What Evil Lurks A Side: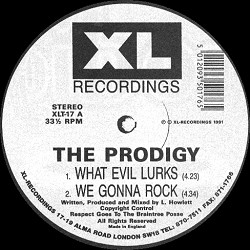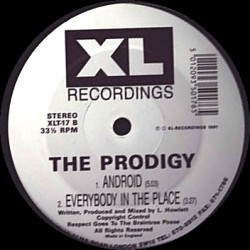 THE FAKES
Since an original release of What Evil Lurks is a rare piece of wax today pirates haven't been lazy in producing various fakes.
The first fakes spotted a few years ago was very easy to distinguish from the originals. They differ by the track name on side B says "A N D R O I D S" (see pics below) instead of "ANDROID" and the XL-logo is not correct. As you can tell from the various pics the rest of the label is not reproduced correctly either with variations in font and font size etc...
There are also fakes with a good looking label but it's still not correct. The font used on it is not the Arial type font used on the originals but rather a Times type font. This is easiest to spot on the letter 'g', compare 'g' (original) to 'g' (fake).



The only way to be 100% sure it's the real thing is to check the inscription in the vinyl just outside the label. On the original it says "THE EXCHANGE" which is the name of the original mastering plant. The fakes I've seen so far lack this inscription.
Early Fake: