February 22th 1999

Prodigy Present The Dirtchamber Sessions Volume One

TRIVIA BOX:
The album is a mix album, a DJ-set done by Liam. It started out as a DJ-set for the radio show 'Breezeblock' on Britain's Radio 1. Liam did initially not want to do the DJ set but when he thought about it further he decided to go on and do it since mixming actually was the way he started out his musical career. After the radio mix Liam went back to his studio to add and tweak the mix a little for the album release. Unfortunately he couldn't get licenses for all of the tracks used in the original Breezeblock set so he had to re-work it with a few tracks scrapped and a few new tracks added.

The initial promo releases had the 'unlicensed' mix, check out the Dirtchamber Sessions Promo.

There's an error in the tracklisting, the first track 'Tonto's release' is actually 'Punk Shock' by Rasmus from his LP 'Mass Hysteria'.
The rest of the tracklisting on CD is not really complete.
A few snippets of a couple of other tunes are present. Listen closely...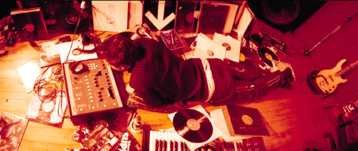 XLCD 128
Prodigy - Intro Beats
Rasmus - 'Tonto's Release' (Which really is 'Punk Shock')
Hardnoise - 'Untitled'
Chemical Brothers - 'Chemical Beats'
Ultramagnetic MCs - 'Kool Keith Housing Things'
Lightning Rod Featuring Jalal - 'Sport'
Ultramagnetic MCs - 'Give The Drummer Some'
Time Zone - 'Wildstyle'
---
Bomb The Bass - 'Bug Powder Dust'
Grandmaster Flash And The Furious Five - 'Pump Me Up'
The Charlatans - 'How High'
Prodigy - 'Poison'
Jane's Addiction - 'Been Caught Stealing'
Tim Dog - 'I Get Wrecked'
---
Babe Ruth - 'The Mexican'
The B Boys - 'Rock The House'
Chemical Brothers - '(The Best Part Of) Breaking Up'
Word Of Mouth - 'King Kut'
---
DJ Mink - 'Hey Can You Relate'
KLF - 'What Time Is Love'
Franky Bones - 'Funky Acid Makossa'
Franky Bones - 'Shafted Off'
Franky Bones - 'And The Break Goes Again'
Meat Beat Manifesto - 'Radio Babylon'
Herbie Hancock - 'Rockit'
45 King - '900 Number'
Propellorheads - 'Spybreak'
Beastie Boys - 'It's The New Style'
---
Sex Pistols - 'New York'
Fatboy Slim - 'Punk To Funk'
Medicine - 'I'm Sick'
---
DST - 'The Home Of Hip Hop'
JVC Force - 'Strong Island'
Primal Scream - 'Kowalski'
Beastie Boys - 'Time To Get Ill'
Barry White - 'I'm Gonna Love You A Little Bit More Baby
Public Enemy - 'Public Enemy Number One'
JBs - 'Blow Your Head'
T La Rock - 'Breakin' Bells'
---
LL Cool J - 'Get Down'
Digital Underground - 'Humpty Dance'
Uptown - 'Dope On Plastic'
Coldcut - 'Beats And Piece'
---
London Funk Allstars - 'Sure Shot'
West Street Mob - 'Breakdance Electric Boogie'
Hijack - 'Doomsday Of Rap'
Renegade Soundwave - 'Ozone Breakdown'
The Beginning Of The End - 'Funky Nassau'
Jimmy Castor Bunch - 'It's Just Begun'